Our Story and Our History
Casual Country Luxury. Our Finnish History.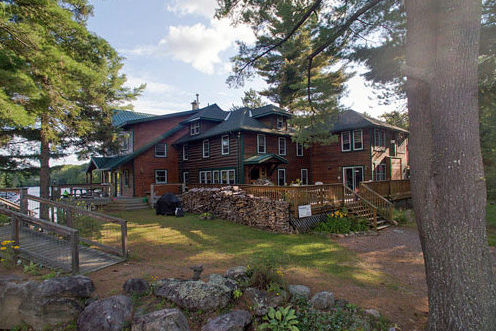 Our Story
Casual Country Luxury
There is this place in the Haliburton Highlands with bedroom balconies overlooking a bubbling river and cascading falls. It's casual country luxury. You can see sunrise river mist views right from your pillow and feel fireplace warmth on a cool day. The absence of electronic influences can be your choice while the soft breeze off the lake or river gently blows your hair. Capture the protagonist's story as you lounge before your fireplace sitting area of your suite. You cannot be found by others if you don't want to be. Imagine fluffing your memory foam pillow while snuggling under your plush sheets and blankets. Consider being able to pillow talk over the sound of the falls. Where would you want to wake up?
Sweet or Savoury Authentically Canadian Breakfast
Meet other like-minded folks, celebrities and world travellers who seek this luxury, customer service, bountiful lifestyle in cottage country. It's the kind of place you harbour mixed feelings about.  "Do we tell the world about this perfect oasis or keep it our very own secret which only we and the many celebrities know about?". Comedians, musicians, magicians and mentalists add excitement and opportunity for storytelling. You will enjoy a sweet or savoury authentically Canadian breakfast before you depart to explore the day…or not.
Come Wander and Explore
We are so proud of our Haliburton Highlands hundred plus of years of history and heritage that we display our artifacts and talents in museums and galleries. We fill  our hallways with glass covered keepsakes. You can head to a first run movie, explore forest paths lined with sculptures, or hike to local parks. Perhaps riding a bike on the rail trail, or swimming in a lake against a current is your way to relax. Explore the rivers and lakes with a soundless paddle of a canoe floating downstream by the cottage dreams of others and offering eye catching silent waves as you pass.
A Place Where Activities Abound
It's a place where your activities of the day could also include creative arts projects, sounds of any kind of music or melody: folk, jazz, country, opera. You could be sitting in a live theatre absorbed in the story of the moment, laughing in the crowd chorus, or gob smacked by the local small town theatre talent and expertise.
Cottage Country
Perhaps your ultimate joy is to cast for that meter long, 2 pound pickerel while your partner watches from the enormous deck with a murder mystery novel and an after the yard arm beverage in hand. Everyone gets to dream of their ultimate home away from home in cottage country. How sweet a two and a half hour drive from Toronto or a four hour back roads drive from Ottawa can lead you to the ultimate time away that's worthy of staying awhile. It's time to make our story your story.
Witness Nature All Around You
Nature is all around you. Steal a glimpse of Oscar the Osprey foraging for that unsuspecting fish to feed his nest bound family, or teaching his young to fly. It's a place to witness otters play with their food on the winter ice as if they knew how to play hockey, a place to watch Justin beaver and family busily repairing their hut after winter damage, a place to watch the loons nest or hear them wail over the sunset lit lake unlike any haunted sound you have ever heard or dream of hearing. Just a two minute walk takes you into the wilderness darkness to see the illuminated sky like none you will ever see unless you come to this escape. In the safety or this close proximity to habitation the sounds of the night become less terrifying. Instead the night sky and night sounds begin to sing.
Culinary Delights
At the end of the day choosing a place for culinary delights is a result of considering Italian, Korean, Thai, Pub food or traditional gluten free fish and chips; whatever your heart, or stomach desires.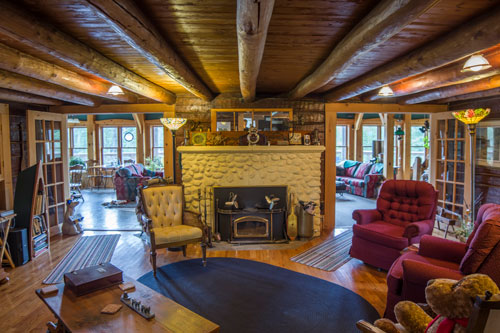 Our History
1928 Finnish Original
The original log building on the property, was a private cottage with a screened porch overlooking the Scott's Dam Falls, built in 1928. By 1934 the log structure had grown in size to 4000 square feet for accommodation and the dining room of a small intimate resort. Known as The Sunny Rock Villa this thriving Finnish family resort ran until 1950. From 1950 to 1985 the property ran as The Sunny Rock Lodge, and during this time was well known as a resort and dining facility. Following a couple of years of no occupancy in 1987 "The Lodge" once again became a private residence.
Hosts Sally & Jan
The present hosts, Sally & Jan, purchased the Lodge in 1995. Following extensive upgrades and additions the name of the former lodge once again hangs proudly over the fireplace. Since then the Sunny Rock Bed & Breakfast reputation and success has grown each year.
The 'Studio'
In 1998 The Moore Pine Studio, a timberframe structure, affectionately known as "The studio" was built by a team of very talented local men employed by Diezel Woodworks of Minden Ontario. The Studio was created and so named as "a calm creative space for gathering friends and family". This building is dedicated with a plaque in honour of Sally's late Mum and Dad, Phyllis and A.J Moore formerly of Winnipeg, Montreal, Lachute Quebec and Oakville Ontario. Our guests have hosted weddings, commitment ceremony, anniversaries, birthdays, wakes, annual general meetings, fund-raisers, surprise parties, wedding and baby showers, family reunions, murder mystery dinner parties, corporate BBQ's and Christmas parties, workshops, art exhibits etc. The Studio is now set up as a very special romantic retreat or using the Heming Lounge Room able to accommodate up to 4 people. All the planned guest parties are now held in the Sunroom of the Lodge.
The 'Lodge' Addition
In April 2003, the Diezel Woodworks timberframe team built an addition to the Lodge which added (2200 square feet) a sunroom and 2 bedroom suites overlooking the Drag River and the Scott's Dam Falls. Today the B and B facility, affectionately known to its guests as, The Lodge", and building called, "The Studio" together provide approximately 9000 square feet of luxury living with an additional compliment of 2000 square feet of decking offer an extraordinary place to gather friends, family and/or colleagues for almost any reason.
Lakeside Property Escape and Oasis
Welcome to Sunny Rock Bed and Breakfast where the cottage-like experience you dream to own without the heavy financial burden and the work guilt, are here for your enjoyment and relaxation. For just an e-transfer or credit card payment each visit and the quiet solitude of a lakeside property your dreams of new experiences and nature sightings are actualized. You have found your escape and oasis at the Sunny Rock Bed and Breakfast in the Haliburton Highlands. Meet your host first hand by picking up the phone and calling (705-286-4922) or emailing (info@sunnyrockbb.ca).
"Friends, family and wow." It's our motto towards helping you to build new and forever friends and memories!
Cody
Our Sunny Rock K 9 Host 
Cody arrived to Sunny Rock in April 2020.  He came to us as a 1 year old Terrier/Beagle mix rescue who had a very tough first year of life. During his formative year he has learned to be cautious around men with beards wearing baseball caps or hoodies.  Cody is a very different dog today. He has learned to trust the fine folks who come to visit our Bed and Breakfast.   Cody will bark upon guest arrival  (our K9 doorbell) and then will soon mellow and present guest with toys. He has become a valued friend and is now endeared and loved by many.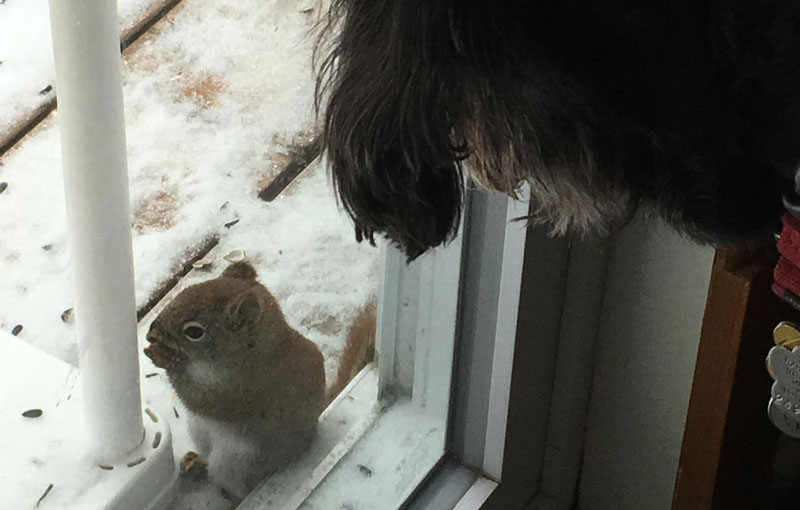 Introducing Your Hosts
Sally and Jan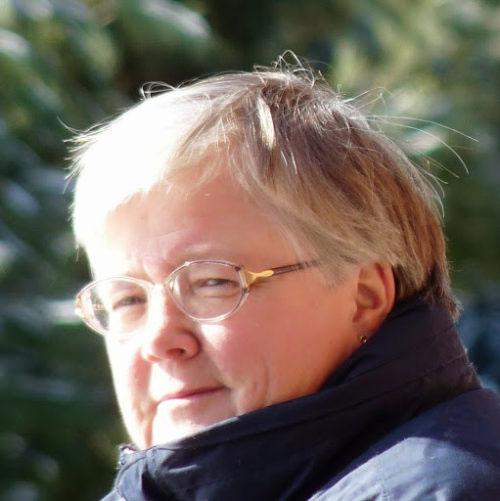 Sally Moore
B.P.E. & Rec., B.Ed., M.Ed.
In January 2005 Sally, for her many years of involvement as a volunteer and Board of Director, was nominated to be an Honorary Life Member of the Ontario Camps Association. A privilege she holds dear.  Sally' formerly was on the Haliburton Highlands Haliburton County Tourism Committee as a representative of the Haliburton Highlands Stakeholders Grooup.. In 2015 Sally, Jan and the Sunny Rock Bed and Breakfast were the proud recipients of the Haliburton Highlands Chamber of Commerce 2014 Tourism & Hospitality Award.
Changing her focus from camp to tourism Sally followed her dream of 15 years and she and Jan purchased this wonderful, picturesque, out of the way property. Together they transformed this historic log resort estate into luxury accommodation for stars, celebrities and for those fortunate to find this year round location.
Sally believes in open door friendliness and value-added experiences. As a former career camp director with 28 years, creating outdoor and environmental experiences with youth to older adults, Sally worked for the YM-YWCAs in Fredericton, Montreal and Ottawa, The Easter Seals Society, dabbled in private camp leadership for 3 years and the Bark Lake Leadership Centre. Sally retired from Camping in 1995.
Sally is an accomplished group facilitator and conference speaker who has shared her camping, supervisory, adventure group experiences and adult education skills with groups throughout North America. Sally enjoys travel and has traveled extensively throughout Canada, the United States, Russia, Japan, China, Turkey, Ireland, Mexico and Australia.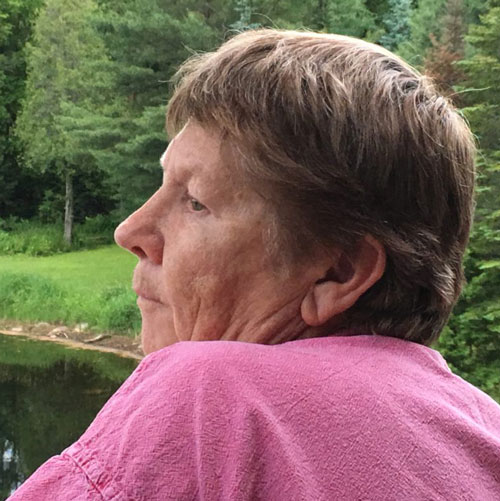 Jan Clarke
Host
Janis is an exceptional "cook and bottle washer" and attends to many of the Sunny Rock Bed & Breakfast needs on a part-time basis. You will love sampling her sweet and savory exclusively Canadian Breakfast she helps to create.
Jan has officially retired from working for Wood & Associates Direct Marketing Services Ltd., in Scarborough, Ontario.
Once a competitive Fast Pitch pitcher, she has played soft ball since her youth and has become an honoured old-timer of the Canadian National Exhibition Baseball Association for her many contributions to Baseball and Softball.During the warm weather months Jan plays Slow Pitch for a team in Richmond Hill. Once a competitive Fast Pitch pitcher, she has played soft ball since her youth.
Jan enjoys travel and has traveled extensively throughout Canada, the United States, Japan, Australia, China, Turkey, Ireland and Mexico.
Jan is an avid sports fan, and yes, she cheers for the Toronto Maple Leafs.  If you're not a fan, please induldge her for her wishful thinking. The Toronto Blue Jays is her true passion. Jan welcomes guests to join her to watch the game and enjoy a beverage.
When she isn't catching the latest game, Jan is adept at capturing the antics and wonder of the wildlife outside the beautiful full windows.  You will see some of her handiwork in our gallery of photos.
Jan's love of animals is obvious in the way Ace responds not only to her but also to Sally.  She keeps Ace's cookie jar full and doesn't really mind picking up after her k9 coworker.
100+ Reasons
Sunny Rock is More Than Your Average B and B