Cottage Country
Day Trip & Picnic
Inroducing
Our Cottage Country Day Trip and Picnic at Sunny Rock
The summer heat is unbearable when you live in a condo, high rise apartment or somewhere near a city. You find yourself thinking of going to the crowded beach or a busy local pool. We have an alternative for you to consider. A two and a half hour, air-conditioned drive away are the intimate decks of the Sunny Rock Bed and Breakfast in the Haliburton Highlands (cottage country). Sunny Rock is the ultimate cottage country destination to hang out next to a lake for a day. Read a book, have a nap, enjoy your picnic. Reserve a Pod on a deck or lawn as your intimate private space from 10am to 6pm.
Read More
Allow us to take you on an adventure; leaving your home with a Cottage Country Day Trip and Picnic destination in mind. Explore off highway travel through small towns, enjoying the scenery while leaving the city behind. As you journey toward nature and adventure…outdoor experiences await you. The hometown hospitality of the villages of Haliburton Highlands offers you snack and take out picnic options or you can pack your own yummy picnic basket or cooler with your favorite foods and beverages before leaving home.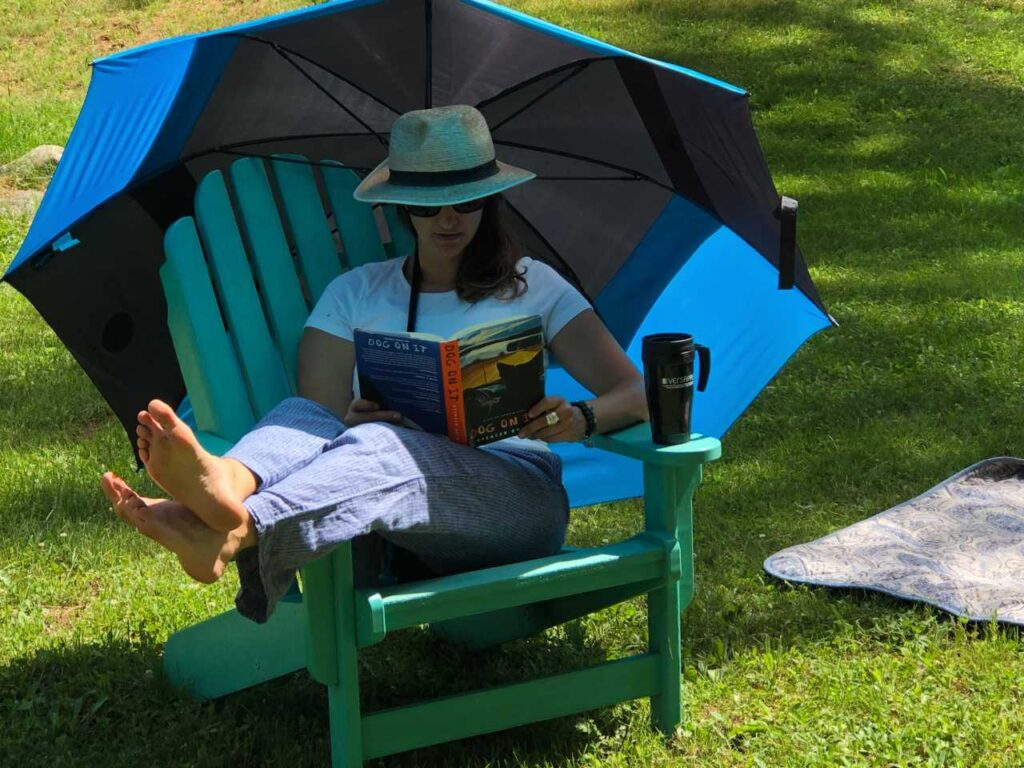 Discover the Pods
What are Pods?
A Pod is a rentable, designated, pre-reserved space on a deck or on the lawn of the Sunny Rock B&B property. You hear the waterfalls, witness the bird and animal life on the river and swim in a lake all from your personal waterfront Pod. We've a welcoming arrival sometime after 10 am and a waving goodbye departure by 6 pm daily unless there is a planned evening program (may be an additional fee). Your reserved Pod is your personal cozy place with the view of water, a breeze and swimming for the full day. Come and go as you wish knowing that your belongings will be safe. Seating will be provided for each adult guest. Pod descriptions are below. Choose the Pod perfect for you and your small group's needs. Best to reserve now.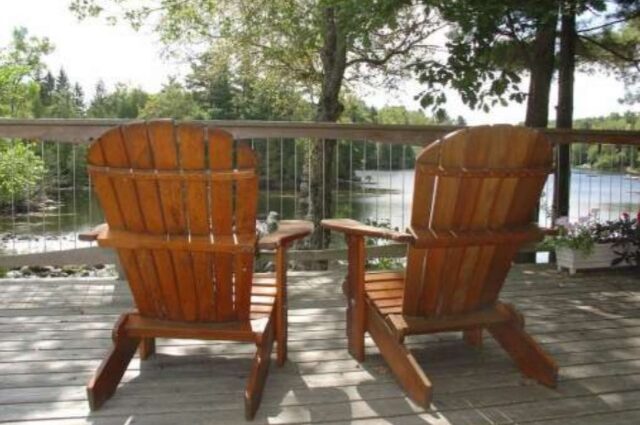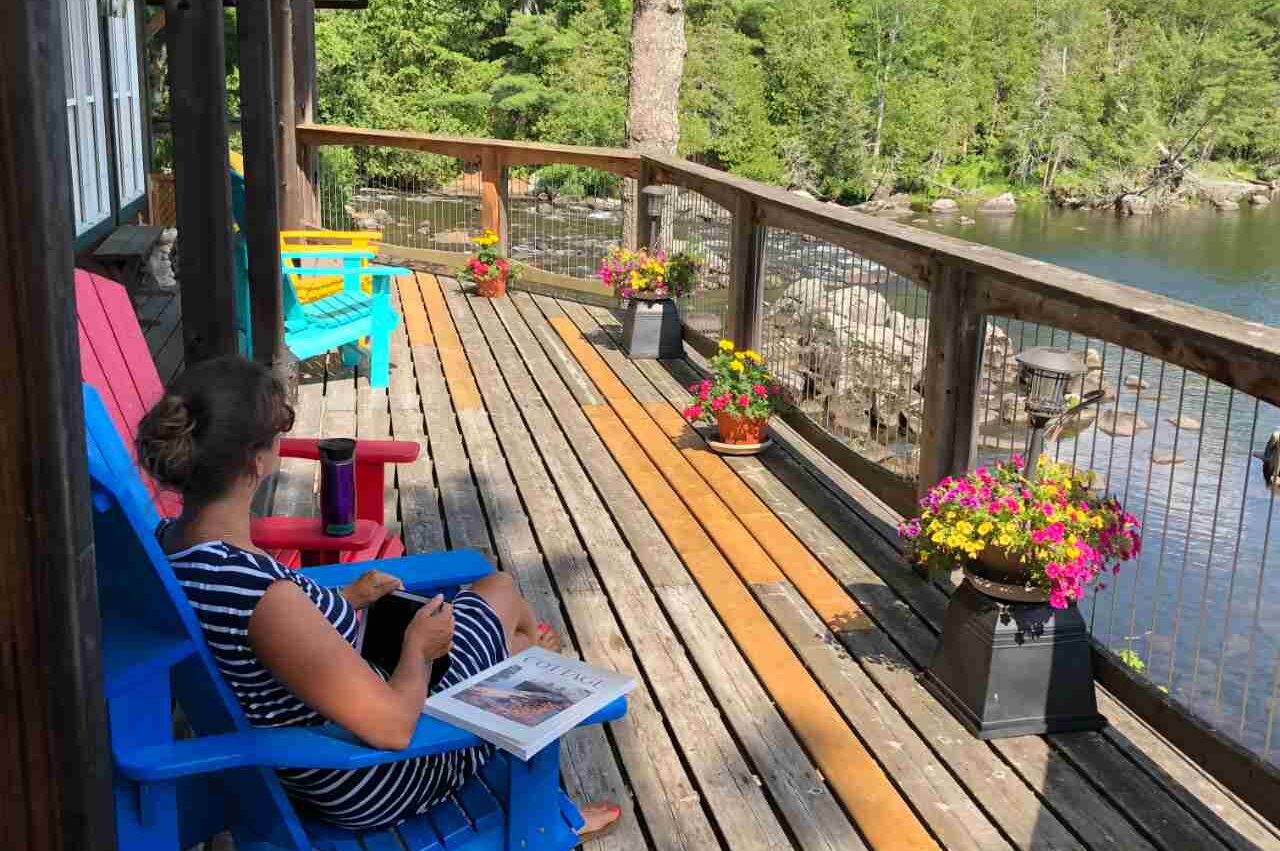 The Look Out
Lodge Front South Deck
The Look-Out has a full view of the Scotts Dam Falls overlooking life on the Drag River. Full sun and limited shade options. It's recommended you bring a large umbrella for shade. Let the light breeze and the sound of the river delight you.
premium view
seats up to 6 adults
access to the Lodge keyed restroom
short walk to swimming access
Daily Rate (up to 3 guests)
$100 *
Additional Guests $40 each
Plus applicable taxes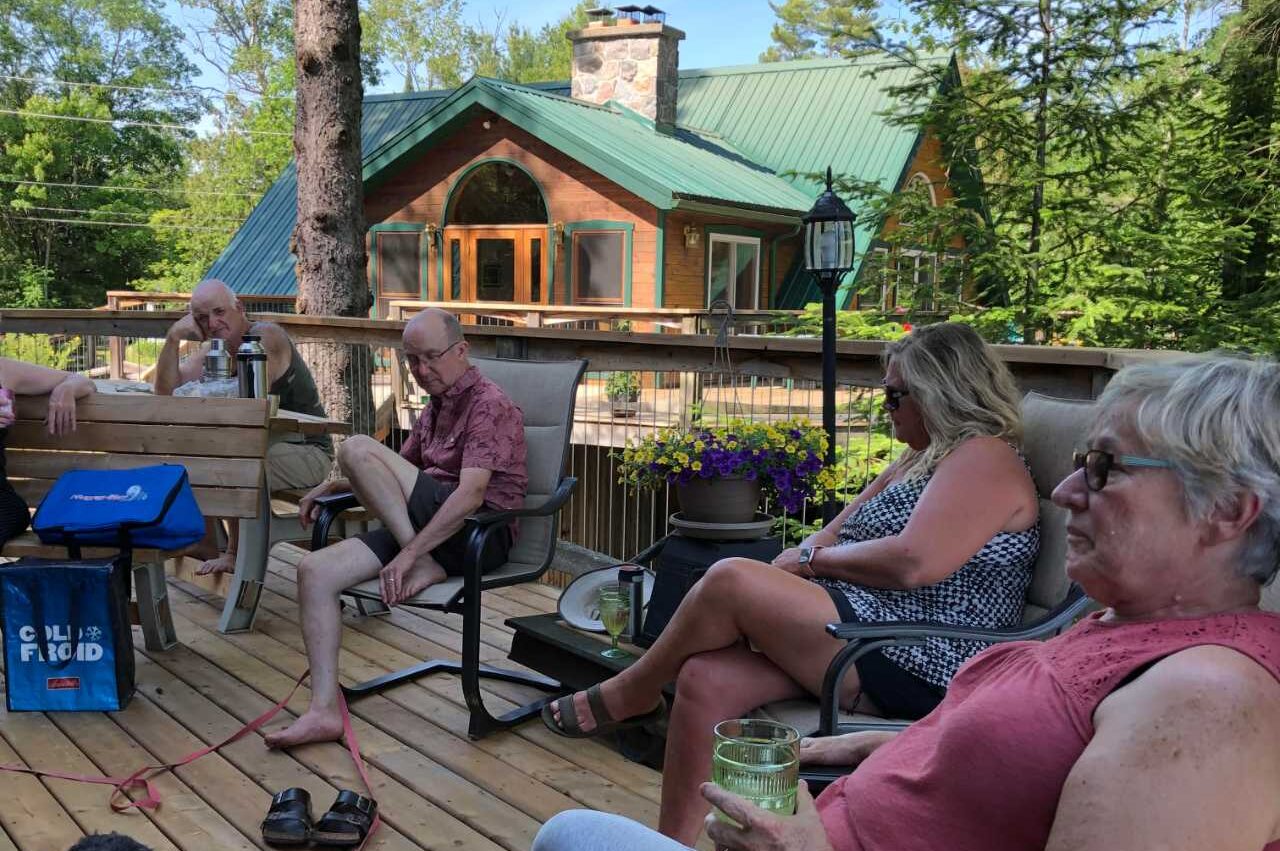 The Nook
Lodge East Side Deck
The Nook has a full view of the Drag River and Scotts Dam Falls with morning to mid-day sun and lovely afternoon shade with a light cool breeze off the water. A private entrance with either stairs or ramp to the Nook Pod.
use of a picnic table
seat up to 4 adults
access to the Lodge keyed restroom
short walk to swimming access
Daily Rate (up to 3 guests)
$100 *
Additional Guests $40 each
Plus applicable taxes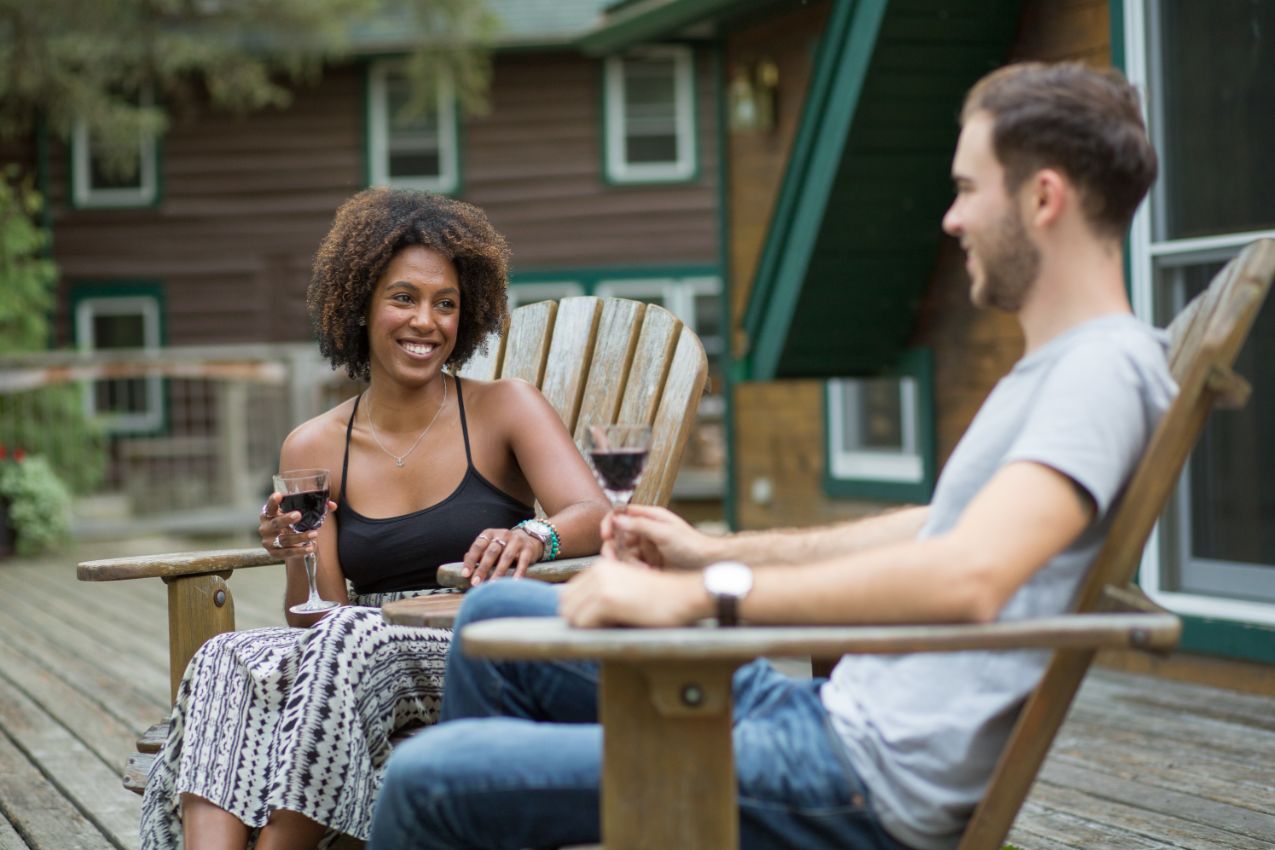 The Dam View
Pine Studio Front Deck
The best "Dam View" on the property looks out on the waters of the Scotts Dam. Perfect for enjoying the morning sun with plenty of marbled afternoon shade. A private stair entrance with a ramp alternative if required.
small half picnic table provided
seats up to 6 adults
access to keyed Pine Studio restroom
short walk to swimming access
Daily Rate (up to 3 guests)
$100 *
Additional Guests $40 each
Plus applicable taxes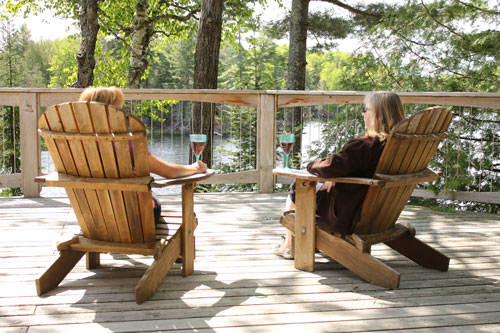 Topped Tree
Pine Studio Side Deck
Central to all activities of the property, Topped Tree has an assortment of both full sun and shade throughout the day. Enjoy a stunning panoramic view of both the Scotts Dam Falls and the Drag River and a calm light breeze.
private stairs or ramp entrance access
seats up to 4 adults
access to keyed Pine Studio restroom
short walk to swimming access
Daily Rate (up to 3 guests)
$100 *
Additional Guests $40 each
Plus applicable taxes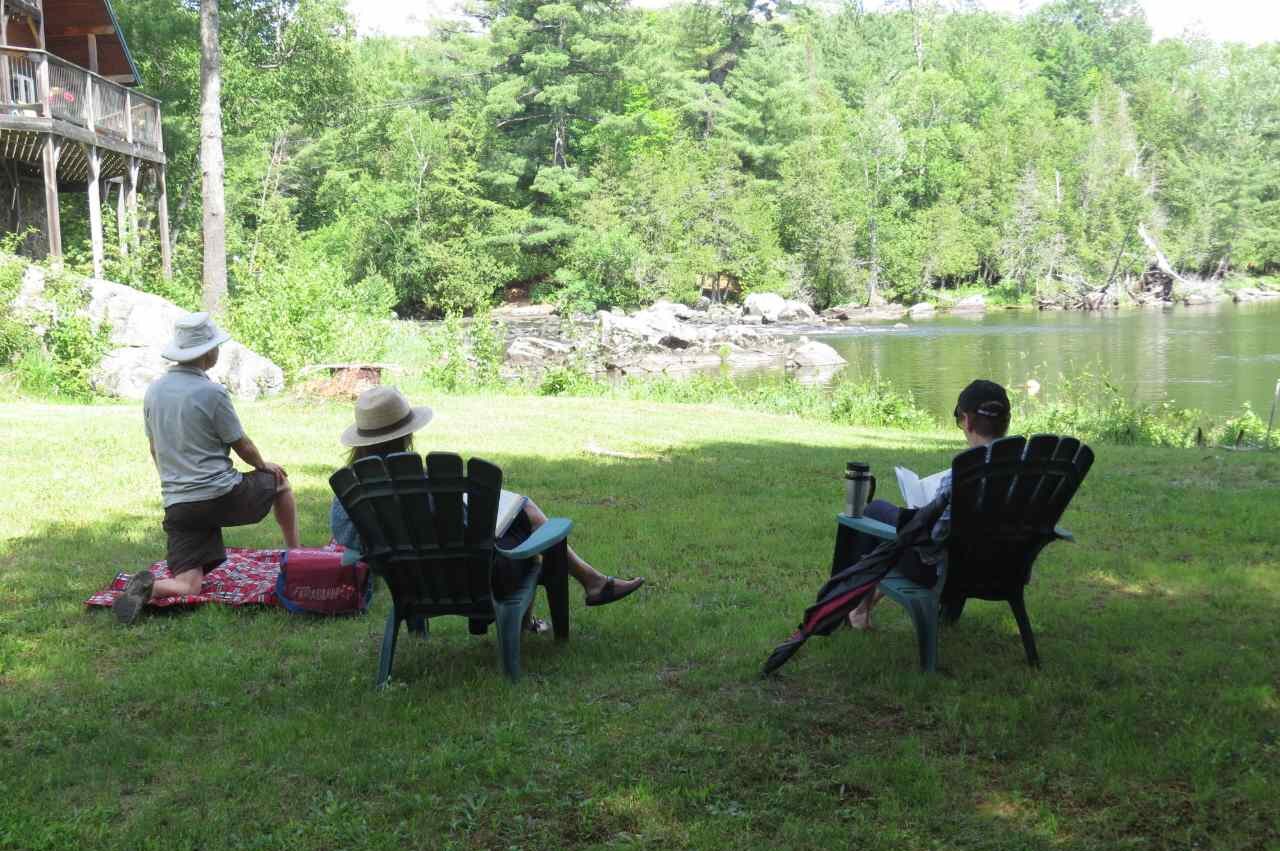 Riverside Lawn
Camp Out for Larger Groups
Enjoy this lawn area for games, set up a picnic on a blanket or simply enjoy the sun and the sounds of the river. Get full sun with mid to late afternoon shade under the pine trees. It is the perfect place to pitch a tent or sun shelter for an afternoon nap.
portable table available (upon request)
seat up to 8 adults
keyed restroom access is available
short walk to swimming access
Daily Rate (up to 4 guests)
$100 *
Additional Guests $20 each
Plus applicable taxes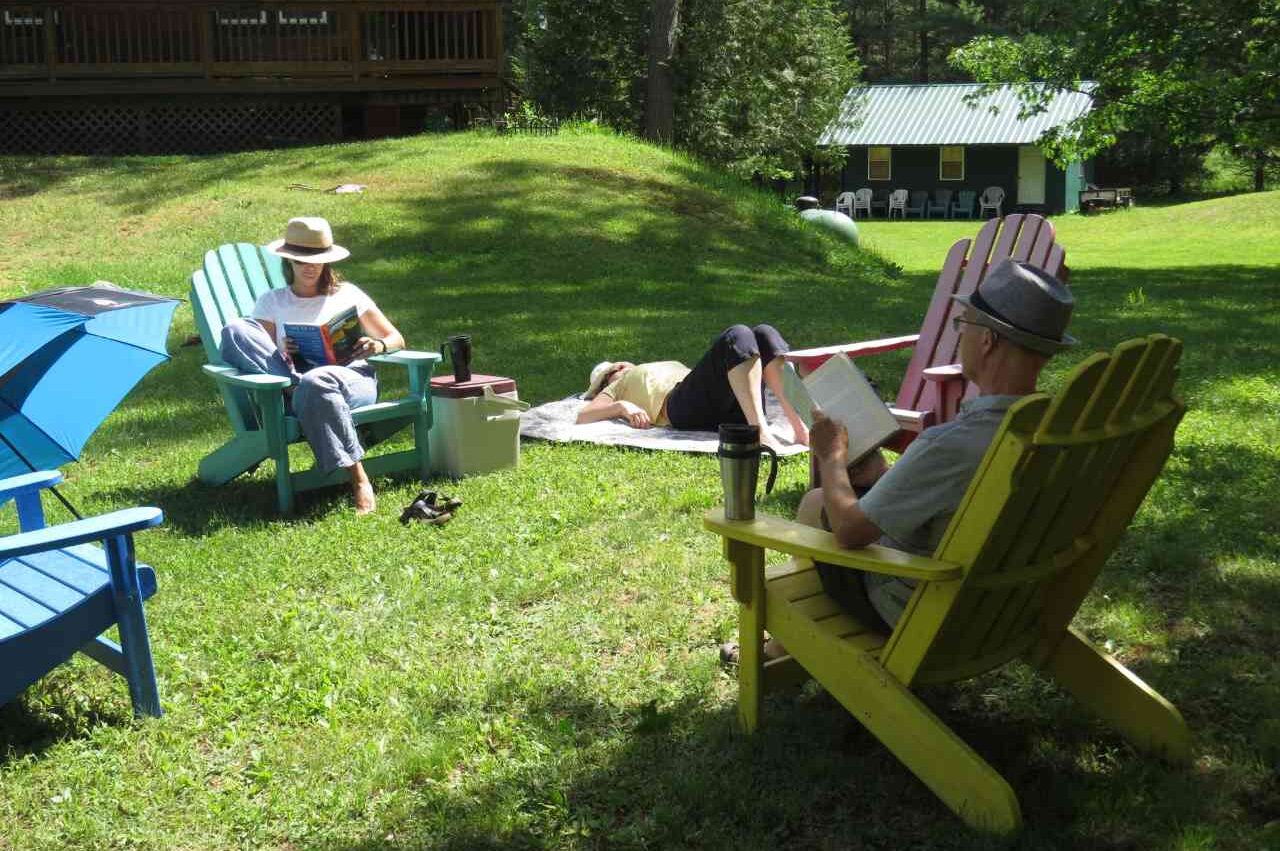 The Back 9 Lawn
Upper roadside near parking
A wide-open space where you can enjoy the lawn to play games or lay out a blanket and enjoy a good book. Away from the sounds of the river this area is a great option to simply relax. It is also the closest area to parking. Mostly shade, this Pod is a welcoming change from the full sun heat during the day.
portable table available (upon request)
seats up to 8 adults
access to keyed restroom is available
closest lawnpod to swimming
Daily Rate (up to 4 guests)
$100 *
Additional Guests $20 each
Plus applicable taxes
Items for your daytrip comfort
What to bring!
A picnic (food/drinks) or pick up take out options (see our suggestion list below)
All your dishes and cutlery and plastic glasses
A good book or eBook
Sunscreen, hat, bug spray, sun glasses
A blanket and pillow if a nap is in order
A sun shelter or tent and lawn games (for use on the Lawn Pods)
Towel & water shoes (for swimming to protect your feet on rocks and against fishing equipment)
Large umbrella (help block the midday sun)
Headphones for the quiet listening to your devices (Sunny Rock is a WiFi detox property)
A watercraft and safety gear (noodles, canoe, kayak, paddles, PFD and safety kit)
A bike and helmet if you wish
Fishing Rod and tackle box. Please supply your own worms. Yuk!
A sense of adventure!
It was lovely being here for our writing retreat. The beautiful, peaceful surroundings and great location of my little desk made it perfect. I got more written than I imagined.
Sunny Rock
Safety Guidelines
In these unprecedented times we assure you that we have deeply sanitized all Pods and the restrooms while preparing for your arrival. Your reserved Pod (described above) becomes your personal space for the day.
Your Sunny Rock Host will welcome you wearing a mask and will use proper cleaning and sanitizing techniques.
The schedule of the village activities will be posted and on display at registration or available electronically by airdrop or email, to help with limited touch.
Keyed restrooms are available for registered guests only. Restrooms will be disinfected after each use and hand sanitizer will be provided in each Pod.
At the time of reservation we will be requiring all names (and contract information) of your party and full payment (e-transfer, VISA or M/C)
When checking in you will be asked to sign a waiver indicating or asking the following.
a. Contact information for each guest is correct,
b. Each guest is symptom free of COVID-19 and has not been in any unknown contact with someone who could be sick or showing symptoms,
c. Understanding of the safe and courteous use of the property (detailed in the Housekeeping and Reminder info).
d. That it is understood that the driver will not leave the property unlawfully.
6. We will provide a takeaway pen for all signing purposes.
* Cancellation Policy
Full payments are made at reservation. Guests who make last-minute cancellations or reservation changes will have paid the whole reservation rate and a value certificate is made for the full reservation rate less a $30 (plus tax) administration fee. This value certificate may be used in the current year and used toward Day Trip & Picnic reservations only.
Weather
Our weather in the Haliburton Highlands could be different than yours. We encourage you to check the Minden Hills weather to assist you with planning your packing comforts for your day trip and picnic.
Reserve your Pod today
Call Sally (705) 286-4922
Information
Local Takeout and Activities
Takeout Options
These local restaurants (within 10-20 minute drive) in the Haliburton Highlands have takeout options. Request a link to the Food and Beverage takeout update posted each day at registration.
Minden and Carnarvon Activities
Heather Lodge (early dinner)
Boshkung Social & Brewery
Peppermill Steak & Pasta (early dinner)
Dairy Queen
Kawartha Dairy
Old Mill
The Rhubarb
Mark's Chinese
Tim Hortons
Abbey Gardens
Haliburton Highlands Brewery
Up River Trading
Haliburton Activities
Baked and Battered
McKecks
Maple Ave Tap and Grill
Kozy Corner
Haliburton Eatery
Win Yeung Chinese
Stone 21
The Cookhouse at Haliburton Forest
Mega Munch
241 Pizza
Subway
Tim Hortons
Up River Trading
Local Activities
Swimming in Canning Lake north of the Scotts Dam against a current or sit in the falls (water shoes are recommended for swimming and watercraft activities)
Canoe, kayak or float in the Drag River or Canning Lake (must bring all necessary equipment and safety gear)
Lawn games, read a book, listen to music or watch the nature channel of life on the Drag River and Scotts Dam Falls.
Practice your yoga or meditation
Sunny Rock History stroll of the "Finnish Village" with your host.
Go for a hike, stroll or jog at Snowdon Park, Dahl Forest, Haliburton Rail Trail, Minden River Walk, Sculpture Forest at Glebe Park. Explore our local biking trails.
For the adventurer go the Adventure Haliburton
Explore My Haliburton Highlands Maps are available.
Driving Directions & Map Location. Contact Sally (705) 286-4922